Google Business Profile (formerly Google My Business) is a service businesses can use to easily manage their presence online. After verifying your business, you can start to customize how your profile appears in Google Search.
Google Business Profile allows you to edit your listing for users to see, allowing you to connect better with your customers and provide accurate and reliable information about your business. You can add or update your name, address, and phone number, as well as list your business hours – whether you're open all week, closed on some days, or if your hours change during a specific holiday.
Not only can you add basic information about your business, but you and others can add photos and videos to your listing to make it pop. People can leave reviews, and you can respond to them. They can also ask questions using the Q&A section as well.
Managing your Google Business Profile listing is crucial to building and sustaining your local search engine optimization (SEO) and improving your visibility. If you learn how to use Google Business Profile and optimize your listing to its fullest, you can succeed in ranking higher on Google.
Claim and Verify Your Business
The first step to success in using Google Business Profile is to claim your business. You will need to find, claim, and verify your business profile on Google, which will help you begin to improve your local SEO.
If you don't know how to verify your business, you can find out here.
Correct Incorrect Information
For each business you have or each location, create a separate Google Business Profile listing. Having one for each will allow your local search engine optimization (SEO) to grow. Your businesses will be more visible as well.
When you look at your newly claimed profile, check over the information about your business and make sure it's up to date. Correct any discrepancies that don't reflect the truth about your business. This could include things like hours of operation, location, or contact info.
When submitting any changes and updates to your profile, be honest. This profile is for informational purposes, and as such should not include anything untrue about your business. In addition, avoid advertising on your Google Business Profile.
Google likes businesses that have accurate and complete information. If your profile is listed correctly and with the most up-to-date information, Google will rank it higher.
Keep Your Name, Address, and Phone (NAP) Consistent
To rank better on Google, entering the name of your business the same as it appears in person and everywhere else is crucial. Google won't like it if your business name doesn't match up online and in person, nor if anything extra or unnecessary is added.
Examples of extra information are:
Location
Taglines
Special characters or URLs
P.O. Boxes
If you are adding phone numbers to your business profiles, be sure to add each individual location's phone number instead of a call center number for every one. It will be easier for locals to reach your business if they can contact you directly through a specific location's number.
Not only should your name, address, and phone number be listed correctly on your Google Business Profile listing, but they should also be shown correctly and consistently across all other listings on other sites, such as any social media profiles. Be sure to monitor this and if your business changes anything, be sure to update all your listings with the new information.
Write a Compelling Description
Your Google Business Profile description should be about how your business is unique and what makes you different from your competition. Keywords should be added here, but not too many. You should also describe your products and services in case it isn't clear from your business name.
The description could also include your business mission and any important history that may be relevant. Adding links to this description is not allowed.
Content should not:
Be misleading, inaccurate, or false
Be low-quality
Advertise any ongoing sales or promotions
Have links, these are not allowed
Be inappropriate
Google may take action against you if your description contains any of these. Be sure to read the full list of guidelines before updating your description.
Get Reviews and Manage Them
Review management is very important to the success and reputation of your business. You can encourage your customers to leave reviews on your profile. If they leave good reviews and many of them, your business will rank higher in local searches.
In 2018, Google made it so that consumers get emails when a business responds to a review they left. This is good because it increases interaction between consumers and businesses. These responses will show up on Google Search and Maps.
Responding to reviews can help your business be seen as reliable and more reputable, so set aside some time to go through and manage reviews that are left on your Google Business Profile. You can only do this if your business is verified, so make sure you have gone through the process beforehand.
Do Your Hours Change on Holidays? Update Them!
If a holiday or event is coming up, check your business hours to make sure they are correct. If your hours are going to change, such as being closed on Christmas Eve, reflect this change on your Google Business Profile.
Imagine checking a restaurant's hours on Google to see that they're open, only to arrive and find that they closed two hours ago. As you can imagine, having incorrect hours listed has the potential to cause issues. Not only does this inconvenience customers who show up at the wrong time, but it sends fewer people to your business during hours you're open.
Also, check your listed payment options and update them if needed. If your business only takes specific methods of payment or excludes a certain one, mention this on your Google Business Profile.
Where Are You Located?
You wouldn't want your customers showing up at the wrong place!
Check the marker on the map to make sure it's in the right location. You can edit the marker location by clicking INFO, then Google Maps, then the edit button, and finally by dragging the marker to the correct location on the map.
Categories, Categories, and More Categories…
Use specific map categories that pertain to your business. Choose all the categories that represent your services or products, as this will help you appear in more local searches. Try not to choose categories that don't apply to your business or Google might not like that.
Individual Practitioners
If you are an individual professional or practitioner, Google wants you to create your own listing with your own name and any title or degree designations after your name. Example: John Smith, M.D.
Some examples of individual practitioners would be doctors, lawyers, dentists, real estate agents, insurance agents, and financial planners.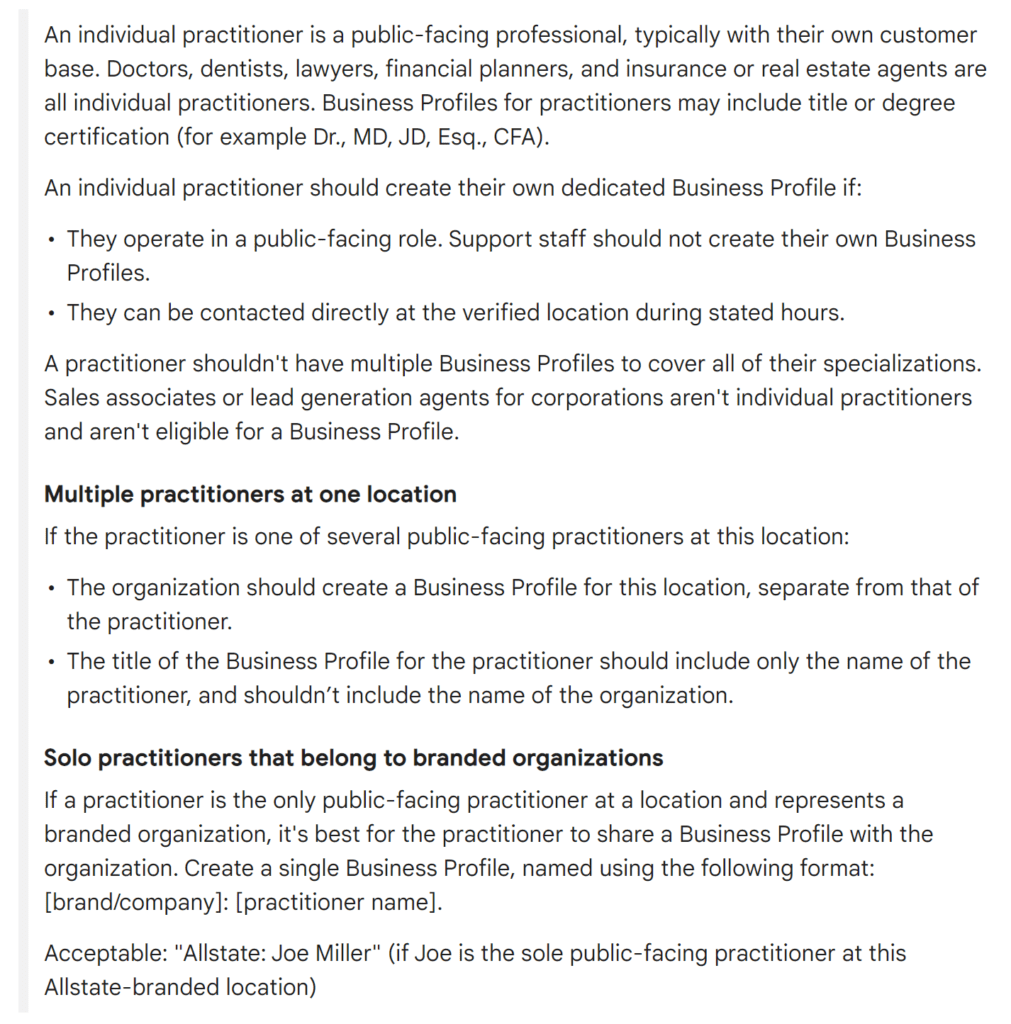 Populate Your Profile with Photos
Post lots of photos on your Google Business Profile. Make sure they are quality photos and that they tell a story. Photos, reviews, and opening hours are the items consumers engage with most. Share photos of the inside and outside of the business to build customer trust to try a new business.
When your business information is correct and your photos are inviting, consumers are more likely to take a chance to visit your business.
Basic guidelines for photo uploads:
Formats: JPG, GIF, PNG, TIFF, BMP
File Size: Less than 5 MB
Photo Size: 720×720 px up to 3000×3000 px
The longer dimension should be no more than twice the shorter dimension. Landscape photos look better.
Each location can have no more than 25 additional photos
Photo should be in focus, well-lit, not be photoshopped, and no excessive use of filters. Photo should represent reality.
Photo types:
Profile photo: Helps customers recognize your business.
Cover photo: Showcase your page's personality. Setting a cover photo lets Google know this is your preferred photo to show for your business.
Additional photos: Add photos that spotlight features of your business. Add exterior photos (3+), interior photos (3+), product photos, photos at work, and food and drink photos.
Add Videos to Your Google Business Profile
Videos can be added to your Google Business Profile in addition to photos. They can be up to 30 seconds in length, and both owners and customers can add them. For search and map users, videos show up the same as photos and if you have more than two videos, mobile search can show a video subtab.
You don't have to have some fancy camera to take these photos; simply use your smartphone to take videos of your business interior, exterior, employees working, and customers enjoying your products and services.
Videos cannot be commercials, and they must be taken by users at your location. If video content isn't relevant, Google will remove it.
Basics:
Video max duration: 30 seconds
Video max file size: 100 MB
Video min resolution: 720p
Style:
Minimal filters are allowed. No additional elements like borders, text, etc.
Content that is not understandable may be deleted.
Screenshots, drawings, and posters should not be uploaded (just videos).
Only upload stable, good-quality content. Anything distorted is not allowed.
Text on graphics:
For 360 photos, the text has to be on the top or bottom 25% of the photo, but not on both at the same time.
Traditional photos and videos must have text limited to a single edge and must not take up more than 10% of the image or video.
Use Google Posts to Promote Your Business
Google Posts were created to share fresh content with consumers. They are meant to show what's happening with your business at the moment. This is an excellent tool to take advantage of, as there will always be new and relevant content available whenever someone searches your business – as long as you keep it updated.
Posts promote your latest and greatest content, and the Offer Post feature lets you showcase exclusive offers and limited-time deals and discounts. Each post is removed from search results after 7 days or after the date of the event.
Search and Maps
Posts are only shown as part of your business listing as it appears in the search. It's important to have good local SEO and to optimize your GMB listing for it to appear on search so that it can be clicked on.
On search, if your business displays in the search results, the Knowledge Panel will appear. This is where customers can see any Google Posts you have made for your business.
Optimizing Your Google Post
Only the first 80-100 characters show in the post, so preview your post and optimize the caption.
Write interesting headlines.
Include a clear Call To Action (CTA) that tells the reader what to do next.
The best image size is 750×750. Images 250×250 or smaller won't be accepted.
Preview the image before posting.
Post often, and share daily specials and current promotions.
The newest post shows up first, but users can scroll up to 10 posts. Only the first two can be seen at first without scrolling further.
Tips for Writing a Google Post
Be precise. Post no more than 3 things you want consumers to know.
Be personal. Show what your business values.
Tell your customers what they can do. Tell them how they can buy.
Highlight what makes your business, product, or offer unique.
Be timely.
Include any redemption instructions, unique codes, or restrictions.
Use abbreviations for days, months, and times to make more room for your post.
Avoid slang, excessive exclamation marks, and all caps.
Don't include more than one offer in your post.
Keep Customers Informed with Q&A
The Questions & Answers section allows local business owners and the public to answer consumer questions asked by people searching on Google. Not many local businesses are using this feature yet, so take advantage to optimize your Q&A now.
Pros:
You and other people can ask and answer questions.
Easy to use FAQ format.
Cons:
You can't opt out of the Q&A feature.
Users can leave answers without you being able to review them.
Harmful content could damage your business's reputation.
Unanswered questions just sit there as a lost opportunity.
Unanswered questions may be answered by other users and it may or may not be the best answer.
Q&A – 5 Optimization Steps
Both reviews and Q&A should be monitored to protect your business reputation. All businesses should use the Q&A feature and provide answers to the customers frequently ask.
Be proactive and start now.
Answer questions helpfully and concisely.
Install the Google Maps app to get notifications for questions.
Stay on top of answering questions to sustain your reputation.
Report false or malicious answers to Google. Report wrong, harmful, or inappropriate messages to Google.
Optimization of your Google Business Profile results in a higher click-through rate, higher rankings, and a better user search experience.
Learn More
Using Google Business Profile is an easy, simple way to improve your local SEO and connect with potential customers. Optimizing your profile and updating it regularly will help you stand out online and show up in more searches.
To learn more about enhancing your business through search engine optimization, contact us or call us at 205-451-1945.